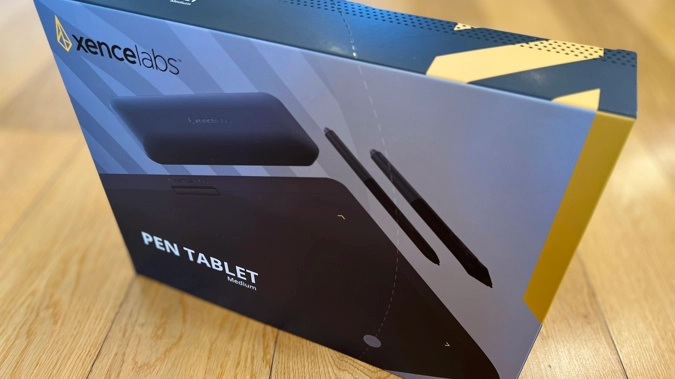 his may be the review I've never been less qualified to write.
I can't draw. I'm really bad. I took Art for a bit at school until one day we had to partner up and draw portraits. I got the general gist of Brendan Malone's body okay but once I got to his face... total nightmare. I mean, he wasn't exactly a fashion model or anything but the way I got his eyes so asymmetrical - it still makes me shudder, just thinking about it.
I changed to Art History after that.
If I'm being perfectly honest, even colouring in was never my forte.
And if I'm being even more honest, handwriting isn't really my thing either.
I put this down to the time I spent working as a storeperson in a warehouse. I seemed to spend half my day signing packing slips as fast as possible so truck drivers could get going the moment I'd loaded or unloaded their cargo.
As a result, even my signature became a meaningless, indecipherable scrawl.
So I can't draw and I can't write. Why wouldn't I agree to review a digital drawing tablet?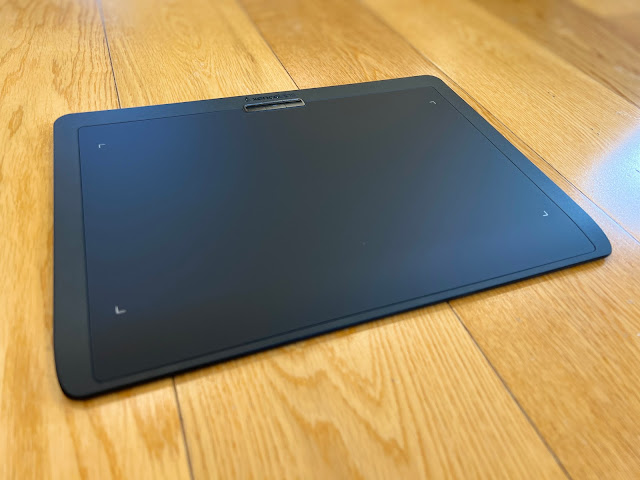 To be fair, I don't think I'm the target market for the Xencelabs Pen Tablet Medium. I'm pretty sure it's aimed at professional creatives; people who actually make their living in graphic arts, animation and other similar visual outlets.
However, if you're one of those people, or you at least have some of those skills and you like to use them, I can probably share some of the important features of this device, even though I have no idea how to use them.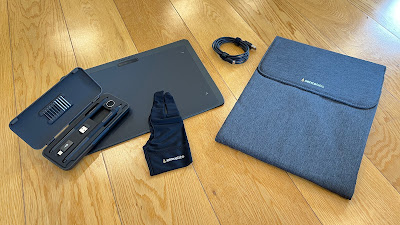 When I first unboxed the Xencelabs Pen Tablet Medium, oddly my first thought was, "What great value for money!" Although I only had a vague idea what this thing was for, I was immediately struck by the build quality and the sheer number of accessories included in the box for just NZ$549.99.
Not only do you get the tablet itself, in all its wonderfully tapered ergonomic glory, you'll also find a very long USB-A to USB-C charging cable, a USB adapter if you only have USB-C ports to plug into, a USB dongle for wireless connectivity, not one but two pens (we'll get to those shortly), six standard nibs, four felt nibs, a nib extractor and the weirdest glove I've ever seen.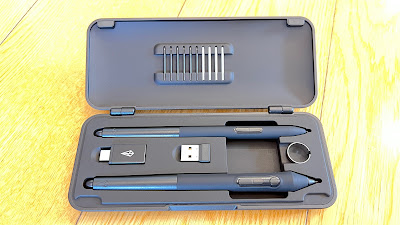 You'll also find an incredibly premium, hard case for the pens, nibs, extractor and USB dongles. Not to mention a luxurious, felt-lined satchel for everything; tablet, cable, case - the lot. Even before I'd tried using any of it, that seemed like a hell of a lot of gear for the price.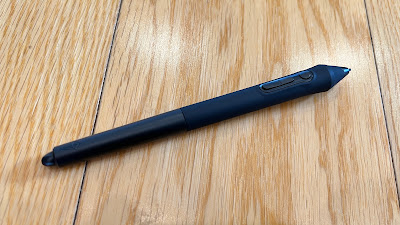 There's a thin pen with two programmable buttons and an eraser on the end. This feels light, like a felt pen or pencil. Meanwhile, the other thicker pen has three buttons and an eraser. It feels much more like an expensive fountain pen or at the very least, the kind of high quality ball-point you might steal from a fancy hotel room.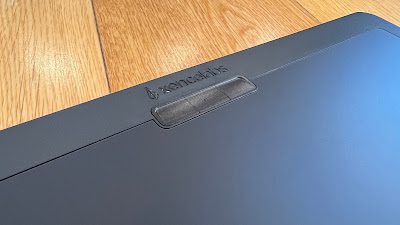 The tablet itself is slim, yet solid and as I mentioned, it curves away at the bottom giving you a comfortable surface upon which to rest your palms. There are three buttons at the top; these can each be programmed to do things like launch the Xencelabs settings app, or swap control from one display to another. The are also LED corner indicators showing you the borders of your 16:9 workspace - these can be customised to the brightness and colour of your choice.
Perhaps the ultimate beauty of this Pen Tablet is the fact it's wireless - just plug in the USB dongle, download the driver software for your device and you're in business. So I did just that and got down to business. Well, as much business as I'm capable of which usually involves child-like line drawings of my dog.
I've played around with a lot of gadgets over the years but I have to admit, I'm mystified by how the Xencelabs pens work - they don't need charging like other styluses I've used in the past, yet they come equipped with programmable buttons, within effortless reach of your thumb as you draw or write. These buttons can work as mouse controls, navigation or editing settings - you can even designate certain apps to be launched with a single click.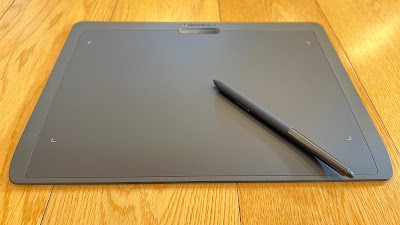 But obviously drawing, painting and calligraphy are the true purposes of the exercise and here is where I discovered there's a whole side of digital creativity I'd been utterly oblivious to. As I say, I've used styluses on phones and tablets before but this is not that. The sensation of drawing on the Xencelabs Tablet is much more akin to the resistance offered up by paper or card - you can even hear the nib working its way across the surface.
That weird glove I mentioned earlier - it only has two fingers. I eventually figured out it's to cover the bottom edge of your writing/drawing hand so you have a frictionless experience as you work your way across the tablet. (Instead of a sweaty, greasy one)
For a novice like me, it takes a few minutes to acclimatise to the process of drawing in one place and seeing the results somewhere else, although there seems to be virtually no detectable lag and my amateurish scribblings appeared on screen instantaneously. I soon got used to it and really came to enjoy the way I could erase a mistake with the merest tap of my thumb on the undo button - that's my kind of drawing.
Of course, being wireless gives you the freedom of holding the tablet any way you feel most comfortable - yes it has rubber feet to keep it in position on your desk but you can just as easily hold it in your lap like a sketch pad (it's about the same size and weight) or even walk around while you doodle, if that's the way you get your creative juices flowing.
How does it compare with other similar products? I have no idea as this is my first attempt at digital penmanship. All I know is the Xencelabs Pen Tablet Medium is an expertly manufactured product with a lot of useful accessories included, that appears to perform every task it promises. In much the same way I'd never be able to drive like an F1 professional, I can still appreciate a high performance sports car when I see one.
I'm pretty sure this thing is a bit like that.