I've heard of Xencelabs before, specifically their drawing gloves that come in different sizes. This already left a positive impact on me. What I did not know is that they also make great drawing tablets, filled with everything you need to start drawing!
Xencelabs was kind enough to send me the Xencelabs Pen Tablet Medium Bundle Special Edition, so I can test it and review it. And I must say, I'm very and utterly impressed.
The Xencelabs Pen Tablet Medium Bundle SE comes with everything you need to draw and more. This is the perfect bundle for someone who's more experienced when it comes to digital art and is ready to enjoy drawing, with all the needed tools to make the whole experience easier and quicker.
But, I do have a lot to say about it, and I'm sure you want to know the specifics of this tablet. This might even be your next drawing tablet, so let's find out!
Unboxing – What's Inside?
I always like well-presented products. I think it's something very important when selling any kind of product.
The product itself should be well-kept and safe while being delivered, but also the way it is presented should be agreeable to the eyes.
So I was very impressed with the packaging of the Xencelabs Pen Tablet Medium SE.
The box is beautiful!
When you open it, everything is displayed so neatly and safely.
Even though everything looked gorgeous, I did want to get my hands on this new tablet as fast as possible!
So first, when opening the box, we have our tablet.
One thing I really like about this bundle was the fact that it was a white/gray tablet. Surely, it's something that you'll notice getting dirty more easily.
But let's be honest here, at some point, owning only dark tablets get boring. So I was really happy to get something with a different color scheme!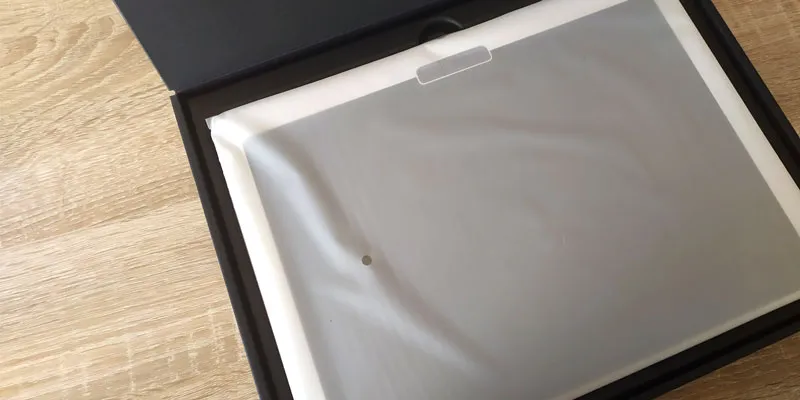 Once you take out the tablet, you got 3 more items:
A Pen Case – Yes, you heard that right, you have a case, to keep your pen and nibs, so nothing goes missing! Inside this case, you can find:

3 button-pen;

Thin pen;

6 standard nibs;

4 felt nibs;

Nib extracting ring;

USB-A to USB-C adapter;

USB-A to USB-C adapter;
This is a very sturdy case, that looks not only beautiful but is quite handy and well made. I'm also very surprised by the fact that the Xencelabs Pen Tablet comes with 2 different types of nibs!
I never even tried felt nibs, since they tend to be costly, compared to the standard ones, so that's a very nice touch.
Quick Keys – With this bundle, you also get a small device that lets you customize your shortcuts. Xencelabs also sell this device separately for about $99.99. For this price, in my opinion, the bundle makes it much more worth it!

A small box containing 2 USB-C cables and a drawing glove. Even though you can use both the tablet and Quick Keys wireless, you have two cables to charge both of these.
As for the glove, it's medium-sized, but it's made with stretchy material, meaning it can fit bigger hands. The glove is also grey, so it matches to rest of the items.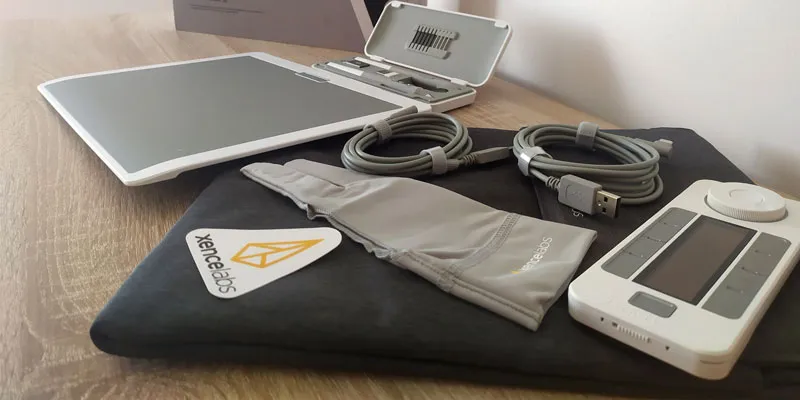 As usual, you can also find a quick guide/thank you card, along with a warranty card inside the box.
Now I thought I was done unboxing. I'll be honest, I usually just check the main items that come with a tablet before receiving it.
It's fun to keep some parts of it as a surprise for when I open the box. I knew the overall items that came with the bundle, of course, but not everything in detail.
However, I do like to completely peruse the box, so I decided to lift the inside panel, to be sure there was nothing underneath it. To my surprise, I find a tablet sleeve!
This is such a complete bundle and everything is made with such quality, I'm absolutely surprised and impressed!
The case has many pockets, so you can fit everything inside, in separate places.
The pen case goes in one pocket, the Quick Keys in another, and another pocket for your cables. Finally, a big space, lined with a very soft fabric, where you can keep your tablet.
That was certainly a lot, with surprise after surprise. All in all, it's a very good bundle, filled with everything you need (and more!) for your new tablet!
Xencelabs Pen Tablet Medium SE – Specs
Alright, it's time to talk about specs, and this time, we do have a lot to cover, so let's start!
The Tablet
For our Xencelabs tablet, we have a very reasonable size.
The tablet itself is 12.61×9.16 in (320.5×232.5 mm), while its active area is 10.33×5.8 in (262.4×147.4 mm).
So as you can see you have lots of space to draw on!
Overall I'd consider this to be a medium-sized tablet, which, if you've read this blog for some time, you know it's my favored size when it comes to drawing tablets.
Even though I could have the space for more, I feel that big drawing tablets are too much of a hassle to handle. Not only that, they're way heavier.
Of course, they're not meant to be moved around, but that's why I like medium drawing tablets so much!
While not the most portable, you can still move them around easily, especially if they have the wireless option.
So, whether you have a limited space to draw or, like me, prefer medium canvas, this is a perfect size.
The tablet itself has 3 buttons that you can set up to anything you'd like. Personally, I like to just add more shortcuts, the less I need to use my keyboard, the best!
As I said before, you can use it both wireless or connect it to your computer with a USB-C cable.
If you go the wireless route, it can work for up to 16 hours and takes about 2.5 hours to charge it back to 100%.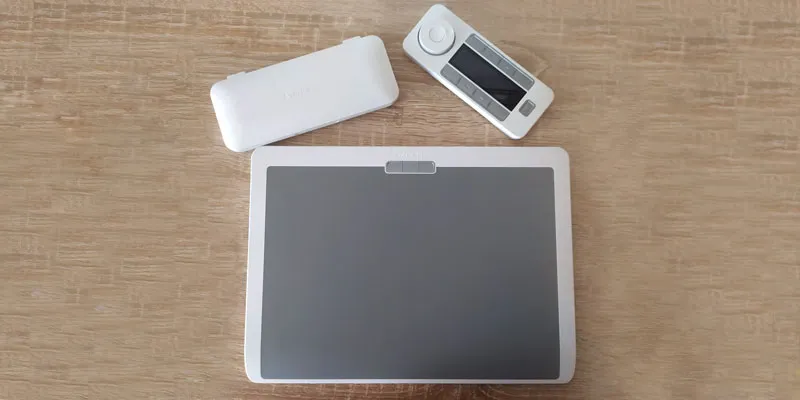 Finally, this is a very thin tablet (0,3 in/ 8mm), so it's very comfortable to draw on while sitting at the desk.
Personally, I wouldn't recommend this tablet if you're someone who draws on the sofa or bed a lot. Not because you can't, but just because it's not small enough to make it comfortable.
Of course, this is a matter of taste, and I generally prefer to draw on flat surfaces. But nevertheless, something I think it's worth noting.
3-Button Pen and Thin Pen
As I said before, this tablet comes not only with one pen, but two of them!
The 3-Button Pen has a similar design to most digital pens: thicker at the bottom, so you can hold it more comfortably.
The Thin Pen, as the name says, has a thinner design, so it resembles an actual pencil or pen.
This way, you can use whichever feels better for you. Personally, I prefer a pen with a thicker grip, so it doesn't hurt my hands over time while drawing.
However, I do know that for a lot of people, using something similar to a pencil, makes the transition from traditional to digital much easier.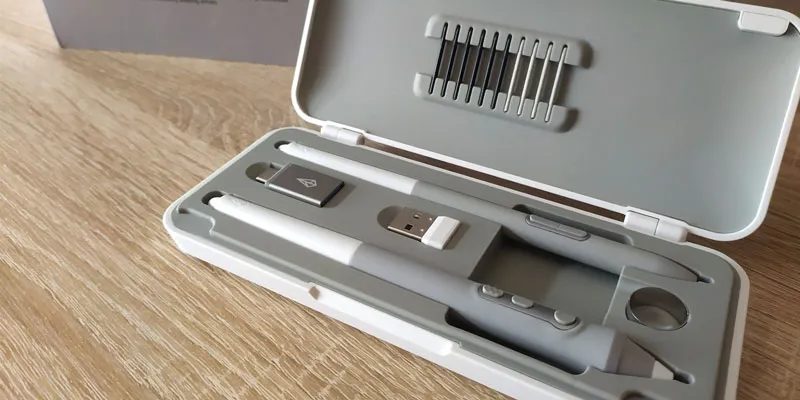 2 different pens AND 10 nibs, amazing value!
As for specifications, both pens are battery-free and have 8192 levels of pressure sensitivity, which is quite a lot!
They're both covered with a rubber material that's very soft, which makes the whole drawing experience much more comfortable. It feels very nice in your hands but also easier to grab.
Finally, the 3-Button Pen, as the name implies, has 3 customizable buttons and the end of the pen works as an eraser as well.
This way, when you want to erase something on your drawings, instead of looking for the tool, all you have to do is turn your pen upside down and start erasing!
The thin pen has only 2 buttons, also customizable.
However, you can also use the end of the pen as an eraser.
It's worth noting that you can control and customize the pressure of both the pen and eraser as well!
The Quick Keys
Our final item is the Quick Keys.
This is a fairly small device, about 6.2×2.46 in (157.6×62.5 mm).
However, it's a very good size to keep on your desk, right next to the tablet. You can even set it up in any direction, so you can choose what's the most comfortable for you.
It has a screen of 3.12 inches, and an OLED display, so it clearly displays the key functions.
You can put a sleep timer on this device if you want, and it does offer you several options, including a no-sleep option.
The Quick Keys have a very durable battery.
According to the Xencelabs website, it can last for about 25 to 53 hours (depending on how much you use and if you do use the sleep function). Charging is also very quick, about 1.5 hours for it to be full again!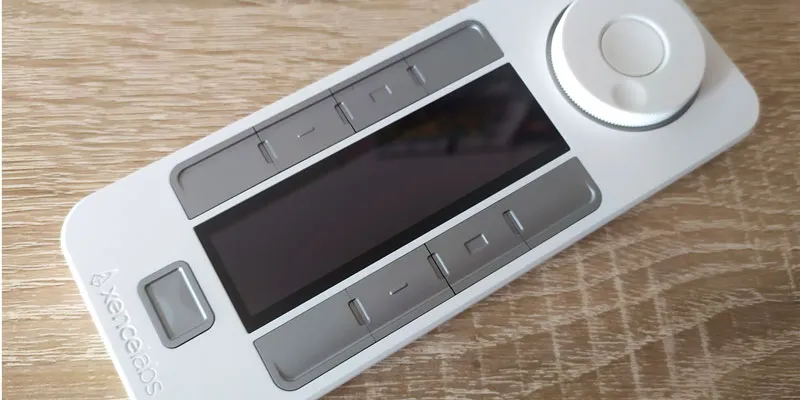 Now the most important part: the quick keys. You have 8 custom buttons, that you can set up for any shortcut or action you want, along with a dial.
This dial can be set up to 4 modes! This way you can use it for more than just one action.
Also important to note, you can even own and connect to your Xencelabs Table with up to 5 sets of quick keys.
This means you can have a total of 40 shortcut keys! Now, I'm not someone who uses a whole lot of shortcuts, but I do know that a lot of people function mostly through shortcuts.
So hey, if you're one of those people, you can say goodbye to your keyboard while drawing!
Every single item is white or a mix of white and light gray, so everything matches.
You can really tell that Xencelabs tried very hard to make a product that is both high-quality and pleasing to look at and use!
Installing and Setting Up Your Xencelabs Tablet
I wanted to talk a bit about setting up this drawing tablet because it's probably one of the best experiences I had. Especially, when you have so many devices in just one product.
To set up your tablet, it's very simple and similar to many others. Just download the drivers and follow the steps written on their website or quick-guide card that comes with the tablet.
Once that's done, you now have access to the Xencelabs Tablet software. Here you can customize everything! And I do mean everything.
From your tablet buttons, passing through both of your pen's buttons and pressure, ending with the quick keys device.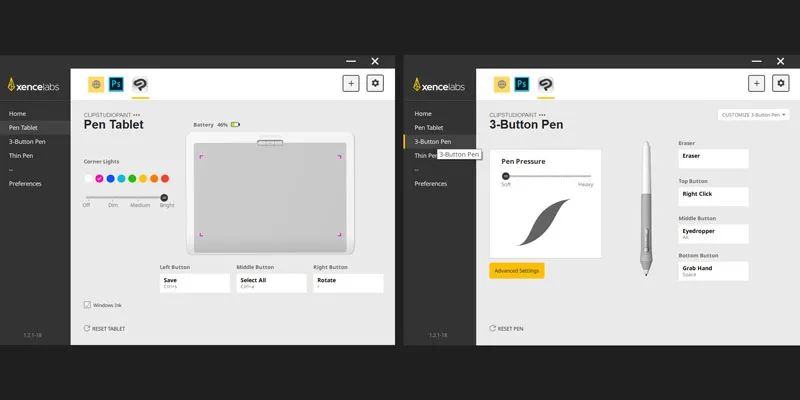 More than the buttons, you can customize the direction of your tablet and quick keys! This way, you can set up everything on your desk up to your taste and preferences. This way, drawing can be the most comfortable experience for you!
Both the tablet and the quick keys have some small LED lights and even that is customizable!
You have a variety of colors to choose from, but you can also choose how bright you want those colors to be.
Now, I know this is not the most important thing on a drawing tablet, but again it feels like you can have a tablet set up to your personal taste which makes it feel even more unique.
Not only that, but some of those lights do have a function.
On the tablet itself, it lets you know where the active area is, so you don't accidentally leave that space.
As for the quick keys, the colored light is positioned around the dial. Now this dial, as I mentioned before, can be set up into 4 different modes.
You can use it to zoom in and out of your canvas. Press the central button of the dial and you can now increase or reduce the size of your brush instead.
Depending on which mode your dial is, the light will change color. This way, you always know which function is active at the moment!
It's worth mentioning that you can also customize the actions of your dial. Even though the device assigned it to something else, you can change it at will.
All this, while making the software extremely user-friendly!
Everything is very clear.
You have different tabs for each item of this bundle. One tab for your tablet, another for the pens, and another for the quick keys.
In each of these tabs, everything is illustrated, with a picture of each device, so you know exactly what you're changing without making any mistakes.
Furthermore, you can have different settings for different drawing software! If you use more than one software, this will be very useful.
You can set up shortcuts for Clip Studio Paint, but have another tab, customized for Photoshop, for example.
Depending on the software you're using, you just need to go onto the tablet software, change it accordingly and it will immediately be set up to the drawing software of your choice.
This small feature makes it very easy to keep your shortcuts organized, in different ways and places. This way, you don't have to change them every single time.
Pros And Cons
It's time for my own thoughts about the Xencelabs Pen Tablet Medium Bundle SE. The good and the bad.
As you might've surmised so far, I do have a lot of positive thoughts on this tablet. But, nothing is perfect, especially since we're all different and have different needs.
I admit, this is probably one of my favorite tablets to use so far and I find it hard to find negative points about it.
Let's start with the Pros:
It's a very complete and original bundle! With this bundle, you get everything you need to draw digitally and more! There was no need to add felt nibs, for example. However they're there, so you can try them out and see what you prefer to use.
Even though, not the most important aspect of a drawing tablet, I find it very refreshing to find a drawing tablet with a color scheme other than black. Aesthetics also count when working!

Easy to set up and very customizable. As mentioned above, you can customize everything about your tablet, pens, and quick keys! Not only that, but it's all very easy and clear to change without giving you too many instructions.

A handy case for your pens and nibs. Again, something that wasn't absolutely necessary but feels like a nice bonus. It's easy to lose our pens or even their holders containing their nibs. Especially if you like to move your drawing tablet's location a lot.
This case makes it a bit hard to lose anything at all. Here you can keep all your nibs, both pens, the nib extractor, USB-A to USB-C adapter, and Bluetooth dongle.

2 pens for drawing! This is definitely a first. A drawing tablet that comes with 2 pens, with different designs, so you can use what feels best for you. If you're too used to traditional art and want something that holds like an actual pencil, you have it. If you want a thicker pen design, then you have it as well!

A practical and very customizable Quick Keys device. A few years ago, I'd say I don't need a whole lot of shortcut keys because I don't even use those as much. I'll just reach the tool with my pen while working. Which… I still do at times!
However, with time I do realize that it's very useful to have quick keys right next to your tablet, so you can very easily change your tools or use quick shortcuts to perform specific actions. With this device, I barely use my keyboard anymore while drawing.

Wireless tablet. Even though it's very common to find wireless drawing tablets nowadays, I think it's always a positive point for them. I admit I usually prefer for most of my devices to be wired. Mostly because otherwise you need batteries for them and I'm just not fond of having to be charging or buying new ones every once in a while.
However, drawing tablets don't use batteries and it's one (or more) less cable on my desk!
These are probably my main favorite and positive aspects of this tablet.
So now it's time for the Cons:
Although quite portable, it's a bit on the heavier side. With the sleeve, I think this tablet can be quite portable and would fit your backpack easily. Even though a medium-sized tablet, its format makes it easy to move it around.
However, if you're someone who travels a lot or goes to school and likes/wants to bring your drawing tablet along, it might be a bit too heavy for that. The pen case, although great since it protects its contents, is quite heavy for example. Overall, I don't think it's a tablet made with portability in mind!

Can be a bit too much for some beginner artists. Although I think this Xencelabs Pen Tablet bundle brings many great items, it can be a bit overwhelming for some artists. Especially someone who's just starting at digital art.
Two pens to choose from, different nibs, and all those shortcuts. If you're an experienced digital artist, who knows what you need and want, it's perfect! If you're a beginner and want to keep things simple, then you might want something with fewer features first.

A drawing tablet that is more on the costly side. The Xencelabs Pen Tablet Medium Bundle SE costs $379.99. Now, for what it brings, especially the Quick Keys device, I don't think it's a super expensive drawing tablet. Especially having into account the quality of it.
On the other hand, if you're looking for something more on the budget side as well as with fewer features, there are other options, even on their own website, like the Xencelabs Pen Tablet Small. You can also find several great drawing tablets under 50$, which I recommend taking a look at here!
If you keep reading we'll talk a bit more about that!
PROS
A very complete and original bundle

Easy to set up, and very customizable

A handy case for your pens and nibs

2 pens for drawing

Practical and very customizable Quick Keys device

Wireless tablet
CONS
Although quite portable, it's a bit on the heavier side

Can have maybe too many features for some

A drawing tablet that is more on the costly side
Is The Xencelabs Pen Tablet Medium SE Bundle Worth it?
Since receiving the Xencelabs pen tablet medium bundle SE, I've been using this tablet constantly whenever I need to do some artwork on my computer. It really is very comfortable and easy to use.
For the price, given what comes in the bundle, quality, and its uniqueness I feel it's 100% worth it!
If you're someone who's somewhat experienced with digital art and know that's something you'll be doing for a long time, then I think it's a very good purchase.
As I said before this is a very complete bundle, that brings everything you need and more. I'll probably rarely use the thinner pen, however, if for some reason I need an extra pen… I have it!
I've always been curious about felt nibs since some artists say it has a very nice feel to them. However, I never did buy nor try them. So now I do have the opportunity for it.
Even though I felt like I don't use that many shortcuts while drawing, and am good with just using the keyboard or clicking the tools directly I do feel having this many customizable quick keys improved my drawing experience, by a lot!
It's very practical to have the Quick Keys device, along with the extra buttons on the tablet and pen.
And again, even though not as important, I like the style and color. It's very sleek and different!
So if all of these fit your taste and needs, then you'll be very happy with this tablet.
Whether you decide to get this tablet or not, don't forget… Keep on drawing!