This year sees a brand new player enter the graphic tablet market. Xencelabs launched a new graphic tablet and Quick key in March 2021. Subsequently, it seems to be positioning to go head to head with the Wacom Intuos Pro Medium. Wacom have dominated the space for decades.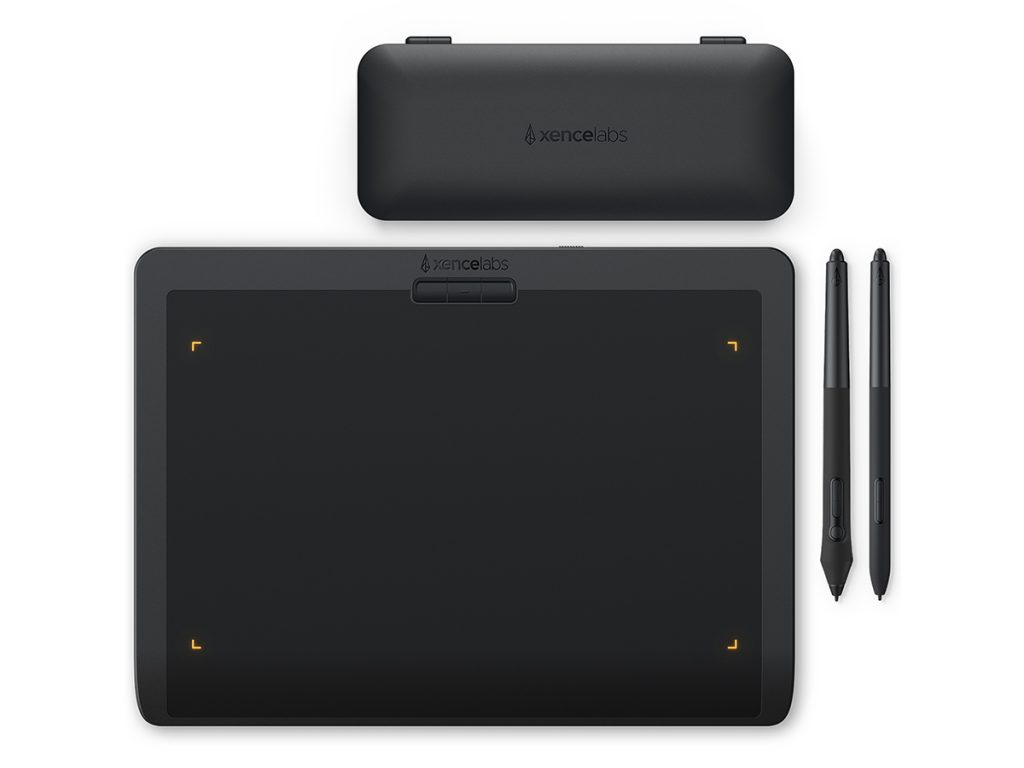 Xencelabs tablet medium
Sub Price
Designed with the input of industry-leading artists, our Pen Tablet delivers a minimalist design that prioritizes workflow, comfort, and intuitive use. It includes additional accessories and tools providing a cost effective and natural drawing experience for professionals.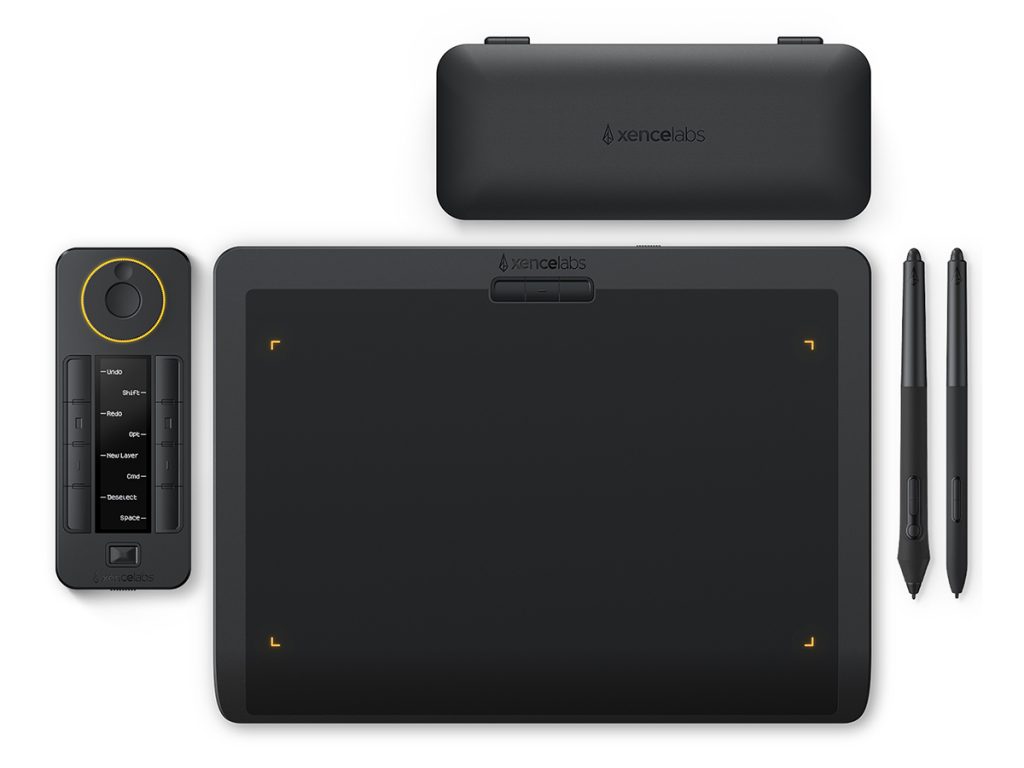 Xencelabs tablet medium bundle with quick keys
Sub Price
Creatives need the right set of tools. Designed with the input of industry-leading artists. The Pen Tablet Medium Bundle delivers a minimalist design that prioritizes workflow, comfort, and intuitive use. It includes the Quick Keys, additional accessories and tools providing a cost effective, efficient, and natural drawing experience.
"Our Pen Tablet prioritizes a faster and more efficient creative workflow with a satisfying, natural drawing experience," said Michael Thompson, Head of Professional Product at Xencelabs. "This product aims to address common nuances to help enhance the work of creative professionals daily."
A new player
Tablet maker Xencelabs just entered the market with a brand new graphic tablet. It includes two pen size variants and a Quick key with the more expensive option. My first look at the new products made me feel that we are getting a pro level competitor to industry leader, Wacom. Certainly, this product goes head to head with their core product the Wacom Intuos Pro Medium.
They shipped the new tablet with a very clean looking rectangular case with two sizes of pen. Thick and thin and the thicker one has an additional button that makes it comparable to the Wacom Pro Pen3D. The case also comes with a USB dongle, USB C connector, spare nibs and a nib tool for easy removal of old nibs and
Both pens come with an eraser, 8,192 levels of pressure sensitivity, three grams of initial activation force, tilt recognition, and as far as I can tell no lag at all.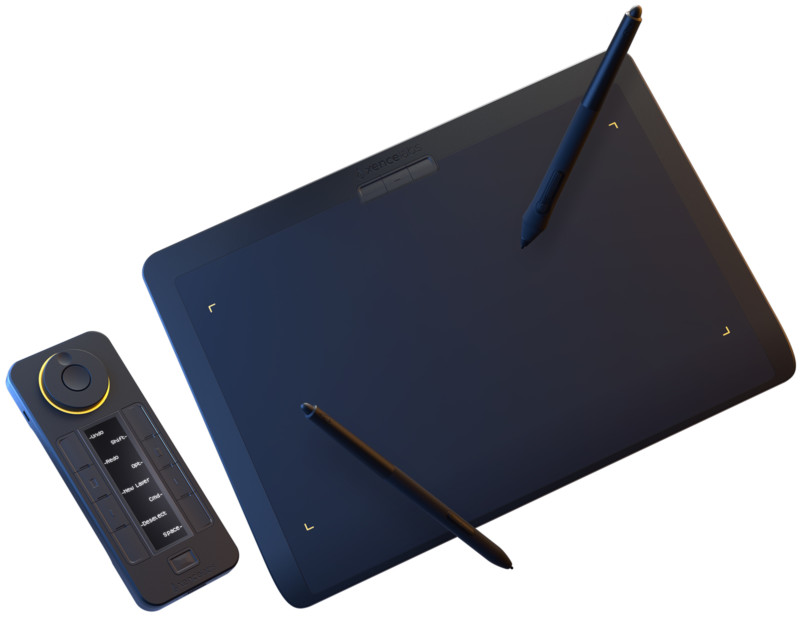 Pen side switches / Eraser buttons:

3 buttons + eraser

Pressure levels: 8192 levels

Pen tilt range: ± 60 degree

Pen grip material: Soft Touch Silicone

Pen size: 6.20 inches / 157.56 mm

Pen weight: 17 g (approx)

Compatible: Xencelabs Pen Tablet Medium
Designed by artists for artists
The Xencelabs tablet is clean and very modern in many ways. Consequently, there are only 3 buttons at the top with nothing obstructing your hands left or right. It's 16-9 and only 8mm thick with an aluminium back plate. The front edge slopes off with a nice curve. Above all, there is no seam to catch crumbs and dirt which is something I've looked for in a tablet for years. You can customise the led colours at the corners of the active area. Also, as mentioned there are USB and USB C dongles for connection to your computer with a wired USB C option from the top which just seem so sensible.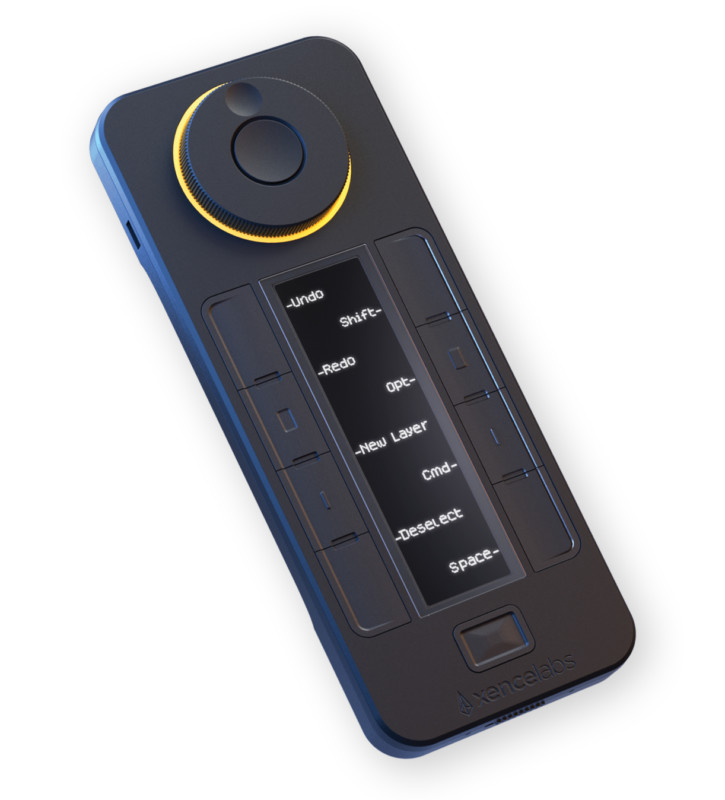 Quick keys
Next thing is the remote and I have to say I love this item. Firstly, this is a customisable remote with an Oled screen. Secondly, it has five sets of 8 keys for up to 40 customizable shortcuts per program. This is useful! I use all sorts of creative software but for digital sculpting I can almost work keyboard free with this device in my hand. You can use the Xencelabs tablet in portrait and landscape mode and even configure the colour ring. Further, it has a mechanical wheel which feel reassuring under the thumb or finger. This gives a very smooth feel when adjusting brush sizes, however, there may be diehard touch wheel fans!
I've been using the Xencelabs tablet, pens and new quick key for a few weeks now and it honestly does feel like the first real pro level competitor to Wacom. I feel like Xencelabs have listened to the community and given artists what they have wanted for a long time. Some of the changes are tiny like the removal of 'touch' or moving the cable to the top but the little things do matter when you use these tools all day long. Bravo on the first release and lets hope Wacom come out fighting and this new competition improves and reinvigorates a very stagnant market place. Glen Southern
Xencelabs Press release
Our testing
The sample model that Xencelabs sent us was setup on a very high-end PC at first. The first PC we tried was a Lenovo workstation with 128gig Ram, a modern Threadripper and an Nvidia P6000 GPU. Needless to say the machine performed admirably with every type of software I threw at it. Tablet installation was done in minutes from the Xencelabs website and the driver process felt modern and intuitive. During testing experienced no lag at all at any time during the testing and the entire setup and first weeks experience was seamless.
We then tried it on a lower end Laptop system with an Nvidia 1060 and 16GB RAM and again no issues to report. Next job was to build an entire creature in ZBrush to test the Tablet and again, all seamless with nothing to report. The front rest sloping off is a very nice feature and I will definitely recommend that to anyone suffering with wrist problems. The quick key is indeed something special. I configured it for ZBrush and I was up and running with my main shortcuts in 30 minutes. For me, the Quick key is the thing that really sets this item apart from the Wacom offering.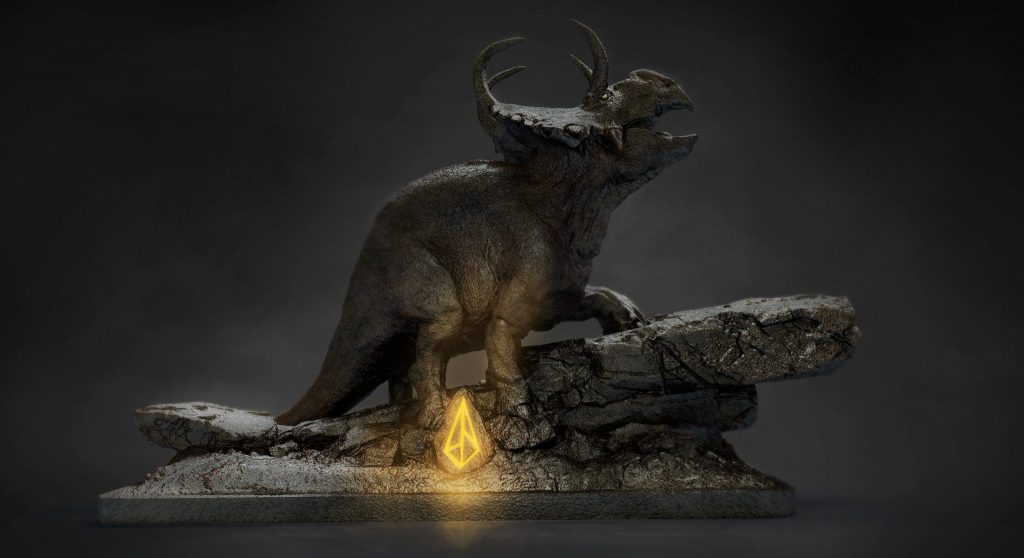 In summary
This is a really well thought out product and the execution has been very well received if you listen to media reports. I think the pen is pretty much a direct copy of the Wacom pen in term of both the size, shape and function. Either Xencelabs are confident that this item is different enough to the Wacom Pro Pen to stop any challenges or someone in patents dropped the ball. Either way the experience is comparable to that of the industry leader. We are really looking forward to seeing how Wacom respond to this newcomer and I am a firm believer that competition, so close to Wacom's heartland can only be a good thing for the consumer. Let's see price drops, products being made to meet the artists requirement's and more innovation.
Who owns Xencelabs?
Interesting to note, with a little research I found this 'Xencelabs is a brand of Hanvon Ugee USA, Inc. We are a global company providing best-in-class digital drawing solutions, enabling creative professionals expanded creativity, and enhanced productivity'
Who are Hanvon? Well the bit that matters is this 'To further develop better products, improve the customer experience, and follow the demand of the market, In 2019, XP-Pen's parent company, Ugee Technology Co., Ltd. completed a merger into Hanvon Ugee Technology Co., Ltd. (Hanvon Ugee Technology was previously a jointed venture founded by Ugee Technology Co., Ltd. and Hanvon Technology Co., Ltd. in 2017
So that looks like a bid for dominance in the sector. If you are already a self proclaimed 'market leader in drawing solutions' and XP-Pen hasn't been able to bite into Wacom's higher-end quality brand market share, then it would make 'Xence' to go for the jugular and make a new brand.
This is now an exciting space to watch! Finally!
Link of original article :https://southerngfx.co.uk/xencelabs-tablet-vs-wacom-graphics-tablet/