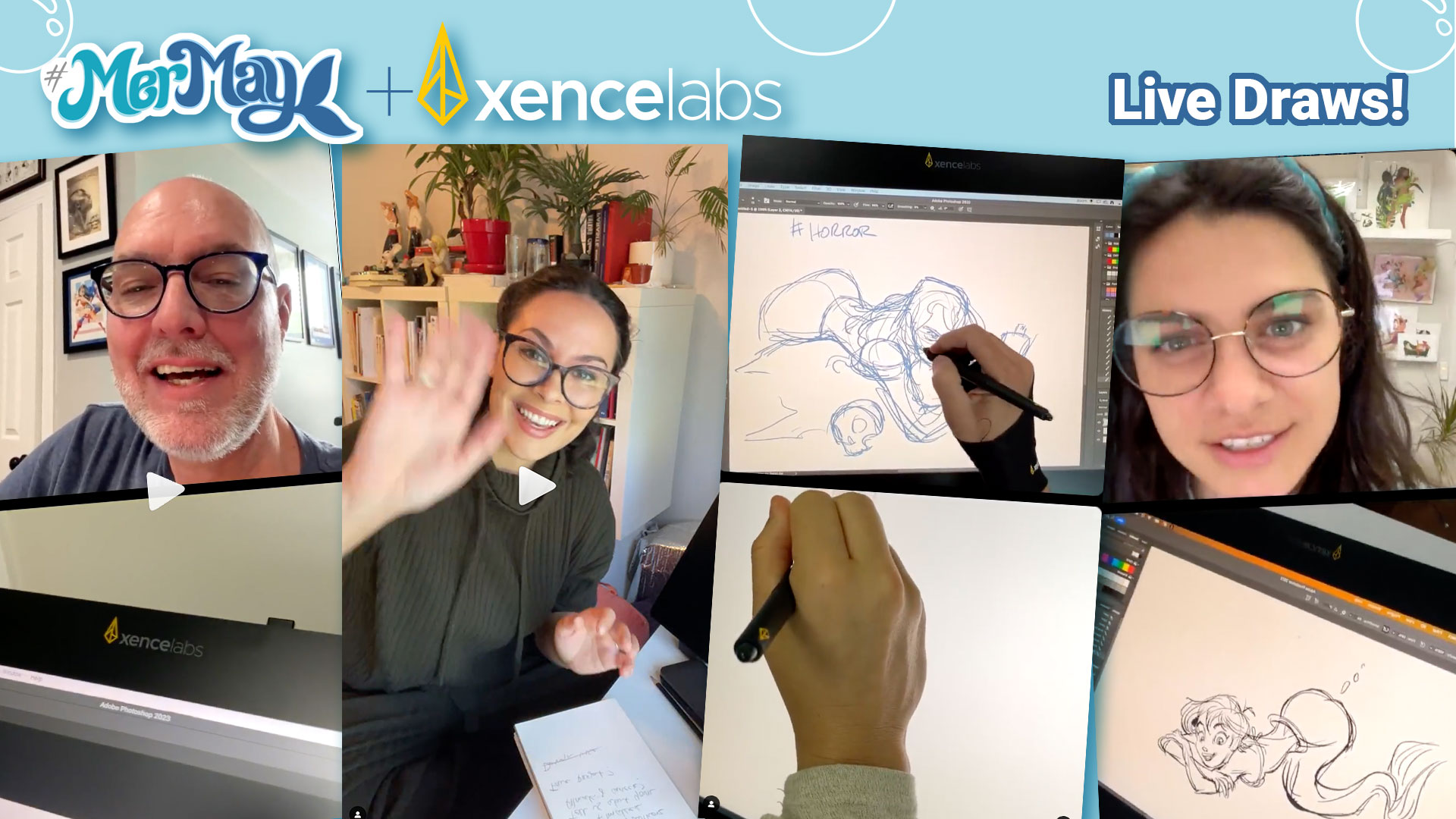 MerMay has been a rite of spring, a creative escape, and a place to build community and share art across social media for the past seven years. In a nutshell, er, seashell, MerMay, founded by Disney animator Tom Bancroft, is an illustrated celebration of Mermaids that brings together thousands of artists from around the world who, not only appreciate the folklore and popularity behind the ocean's famously finned creature, but also just plain love to draw and collaborate with other artists. It's also an art contest, but that's kind of secondary. MerMay is really all about building friendships and sharing a passion for drawing.

This year's professional hosts – Tom Bancroft, Whitney Pollett and newcomer, Lauren Barger – did a fantastic job making MerMay fun, engaging and, yes, even educational. They were delighted to have Xencelabs as a sponsor this year and greatly enjoyed using the company's Pen Display 24 to create all of their digital illustrations, live and in-studio. In addition to creating the 31 daily mermaid-specific drawing prompts for the month on Instagram, the team delivered a variety of other social media activities, including IG Live interviews with artists from the animation industry and IG Live drawing showdowns that featured head-to-head live drawing sessions, some a bit heated but all in good fun. "Lauren was a real champion and took the MerMay site to the next level," said Whitney Pollett. "She created a wonderfully professional page with easy-to-follow information on upcoming interviews, special drawing sessions, etc. Kudos to Lauren and we are so happy she joined us this year."

The month began with a series of Live events that were geared to be fun and casual for the audience. Live events where artists are drawing while speaking are magical and mesmerizing as one has access to the entire creative process. Audience participation was encouraged, and people were making suggestions to the artists as they drew. In the comment section of IG Live, anyone could ask questions about the creative industry, from how Tom, Whitney, Lauren or other guests found inspiration, to how they tackled creative blocks, and so much more. These sessions were most insightful, especially for young artists wondering how to break into the industry.

As the days passed, the MerMay audience grew and grew and what started out as a fun art contest, turned into a diehard community of creative people looking for connection. The love and appreciation from the comments on the site were undeniable. Towards the end of the month, the MerMay team was receiving dozens of messages from fellow creatives saying how much they had grown after listening to and viewing all the great featured artists. Here are a couple of the Live Draws that the MerMay Team did using the Xencelabs Pen Display 24: Horror & Cute Prompts and Last Live Draw both with Tom Bancroft and Lauren Barger.

During the last few days of MerMay, the site was commandeered, temporarily deleted, and held hostage for ransom by a hacker. Not once, but twice! How mean and upsetting is that?! While this was way more dramatic and serious than imaginable, in true MerMay fashion, the team, through hard work, dedication, and technical wizardry, got a new site up and running. A testament to love conquering hate.

Xencelabs thanks Tom, Whitney, and Lauren for their hard work and allowing us to sponsor the event this year. Additionally, thank you to all the great guest artists and the entire MerMay audience for creating an endearing event that reminds us how art can change the world.

Finally, congratulations to the winners of the MerMay art contest, where there are three winners from two categories, Illustration, and Animation. We hope you enjoy your prizes and look forward to featuring you in a future newsletter.

Illustration:
(1st) Adam Bunch – Pen Display 24
(2nd) Jochem Van Gool – Pen Tablet Medium Bundle SE
(3rd) Victor Ian Covarrubias – Pen Tablet Small

Animation:
(1st) Nathan Little – Pen Display 24
(2nd)* Peterpan07 – Pen Tablet Medium Bundle SE
(3rd) Jillian Hicks – Pen Tablet Small
* Our apologies, but we just have an email address at the time this went to print.