RC Aradio
Character Design & Storyboards
RC Aradio joined us for Lightbox Expo 2021 to cover character development and storyboards.
Watch the full Live Session on YouTube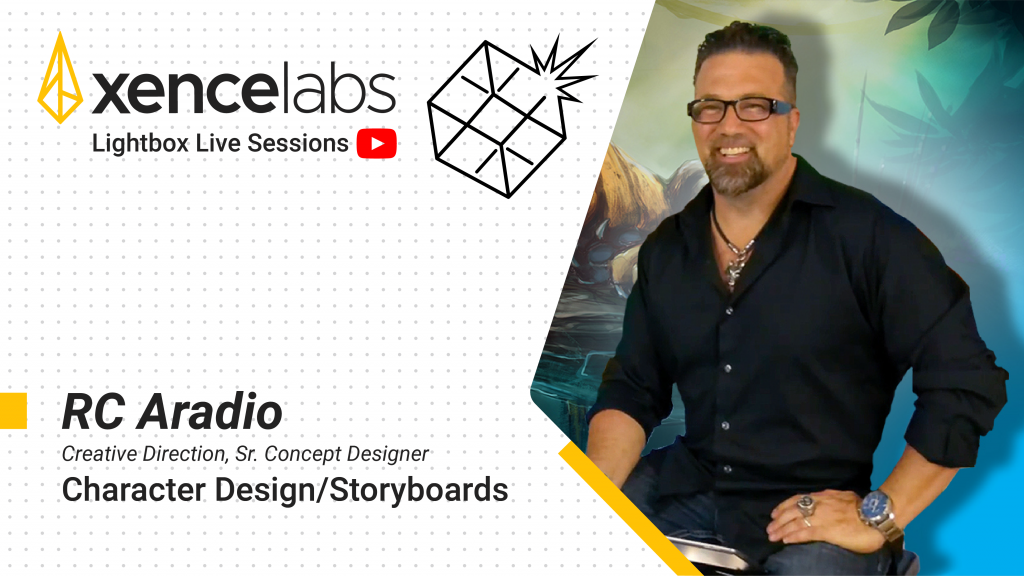 Character Design & Story Boards | RC Aradio: Lightbox Expo 2021 – YouTube
"Art is math with style."

-RC Aradio
RC Aradio worked for Universal Studios and freelanced for Disney and Marvel Studios on various projects, but has been focused on attraction design for amusement parks for the last 15 years. His passions throughout all of the jobs he's had have always been illustration, character development, and storytelling, so he opened his own company called Blue Core Creative. He's also currently working on an illustrated novel and shares his 20 years of industry experience with others through his Patreon. Our Lightbox Live Session with RC is a hybrid of some of his Patreon lessons, so sit back and get creative with us then go check out his Patreon for the full experience!
Connect with RC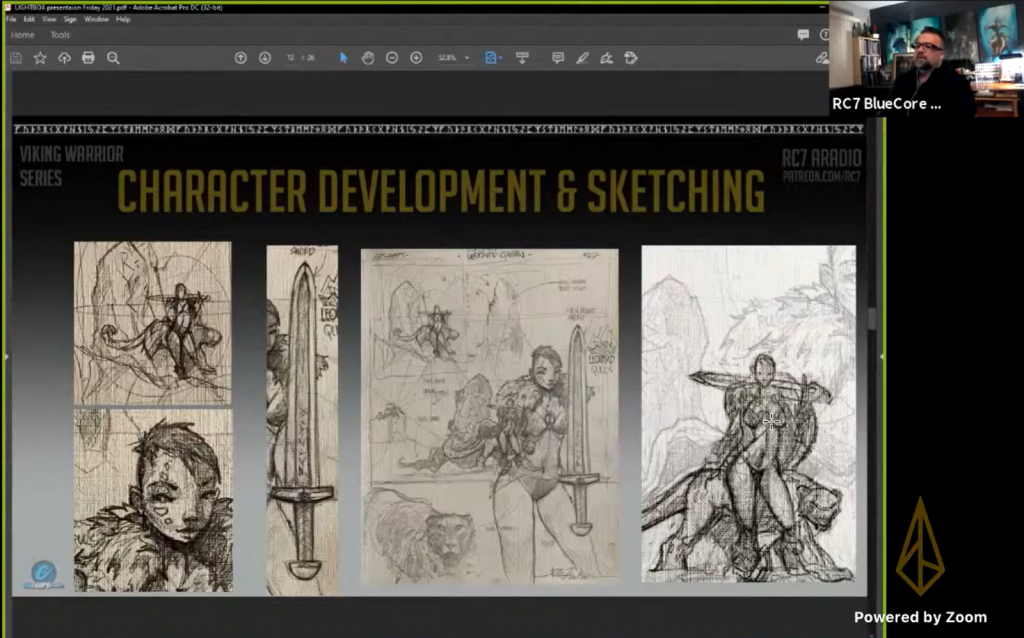 In this Lightbox Live Session, RC shared his creative process with us as he builds a character.
September was all about Vikings and Viking lore, so RC decided to show us the creation of a Viking character he's been working on. RC starts with reference images and then builds his character from there. "The fact of the matter is it's really about finding great reference images and getting into what story you want to tell," RC explains as he shows us some reference photos he used to craft his Viking. Once you have a general idea, you'll want to ask yourself some questions to flesh out more about this character. RC asks the audience: "What's the story? Is the character strong or feeble? Is the character pretty or aggressive?" You'll be able to hash this out by studying your reference material. For RC's character, he studied Viking history by watching history documentaries, TV shows, and searched for reference images. He then takes us behind the scenes and shows a timelapse of him sketching the male Viking character.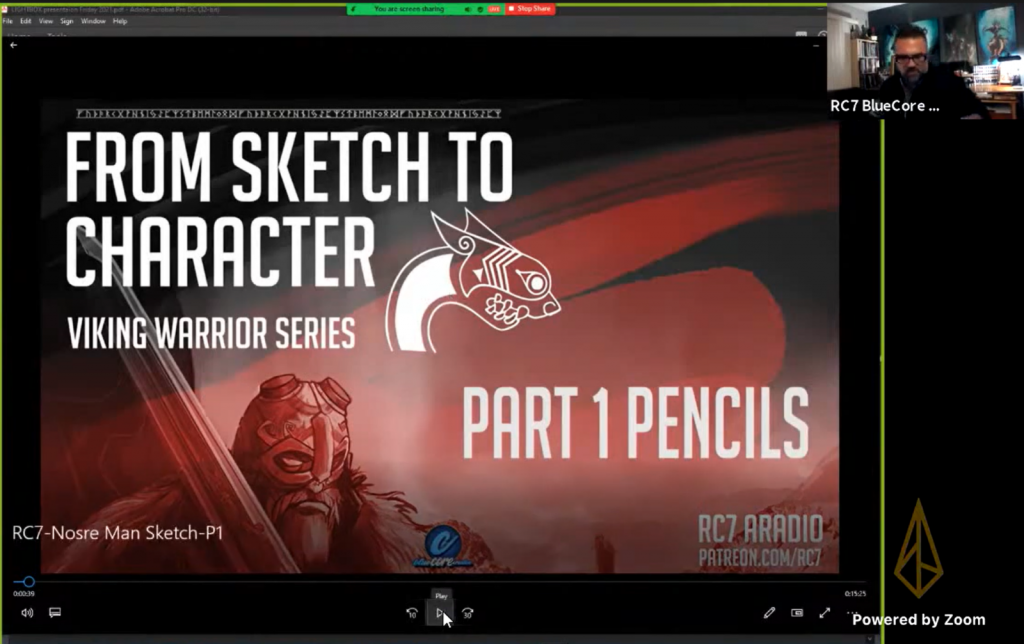 RC starts his character development with pencil sketches in red or blue ink.
RC's original sketches are usually in red or blue pencil. He actually likes to start with pencil and paper and scan his sketches into the computer to ink over. Utilizing the mediums you're comfortable with is totally possible as a professional artist. If you'd like to walk through sketching these characters with RC Aradio in a timelapse, watch the Lightbox Live Session starting at minute 25:10.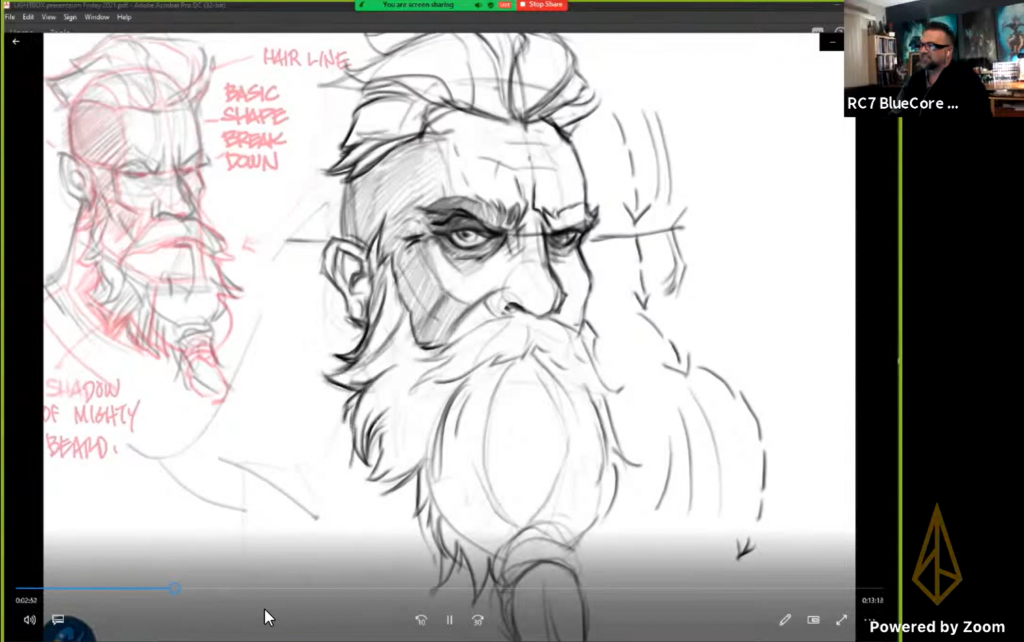 RC shows the viewers how to take their character designs from pencil to ink in this Lightbox Live Session.
The next step RC Aradio explains is how to take your sketches from pencil to ink. You can watch the full replay of pencil to ink in the Lightbox Live Session starting at 30:04. He uses a strong ink brush and a thick and thin technique to follow the contours of his pencil sketch. This step is purely in black and white. In his next Lightbox Live Session with us, he shows you how to color in these inked illustrations. After discussing how to ink your sketches, he takes us through a live drawing session using the Xencelabs Pen Tablet Medium and 3 Button Pen in Adobe Photoshop.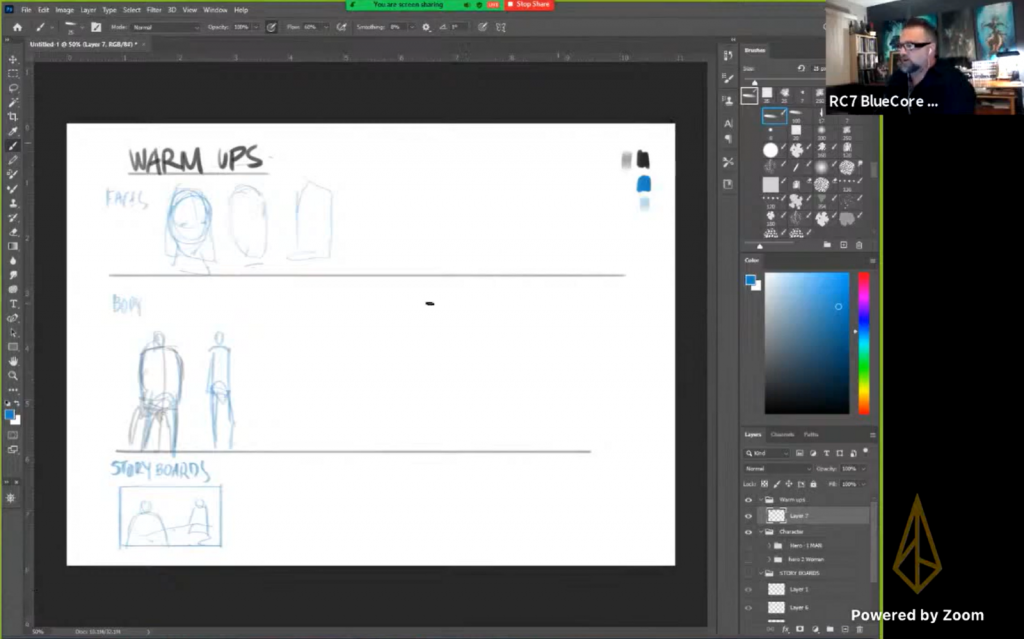 During the live drawing demonstration, RC starts his sketch of the Leopard Queen with the face.
During the live drawing demonstration, RC starts his sketch of the Leopard Queen with the face and builds the character out through light blue pencil sketches from face to body to a storyboard. Throughout the drawing process, RC only uses about 4 ink brushes over and over again. Watch the full Lightbox Live Session to learn RC's secrets to sketching and inking characters then tune in to his second Lightbox Live Session to watch how he colors them in. To finish off this session, RC quickly covers storyboard and how to put your characters into action.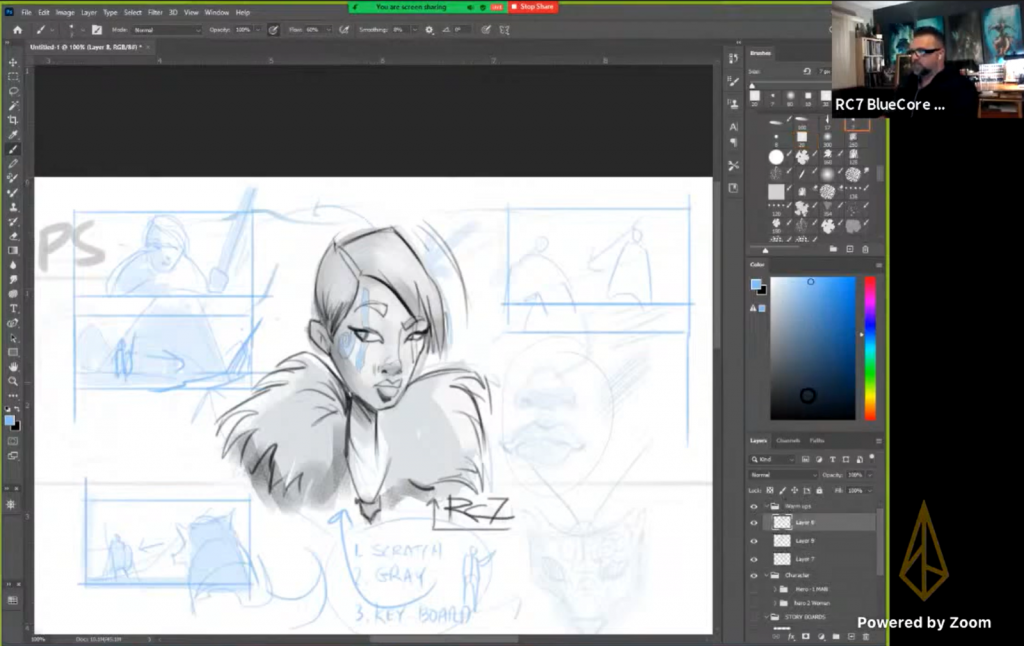 After you've created your characters, you must envision an environment for them to live in.
"Once you have developed your characters the physicality itself will give your character its own story," RC explains as he discusses staging his storyboards. After you've created your characters, you must envision an environment for them to live in. RC refers to these as "sets" much like you would in film or theatre. You're building a set on the stage of their lives then letting them play out their story within it. "It's your job to take your reference and turn it into a story." RC challenges artists to adhere to your references but remember that you can take your art in whatever direction you want it to go. "You're the artist. You're steering the ship."
If you're ready to steer your own ship and start developing characters and storyboarding, watch the full Lightbox Live Session with RC Aradio and dive deep into Viking lore.
Watch the full Live Session on YouTube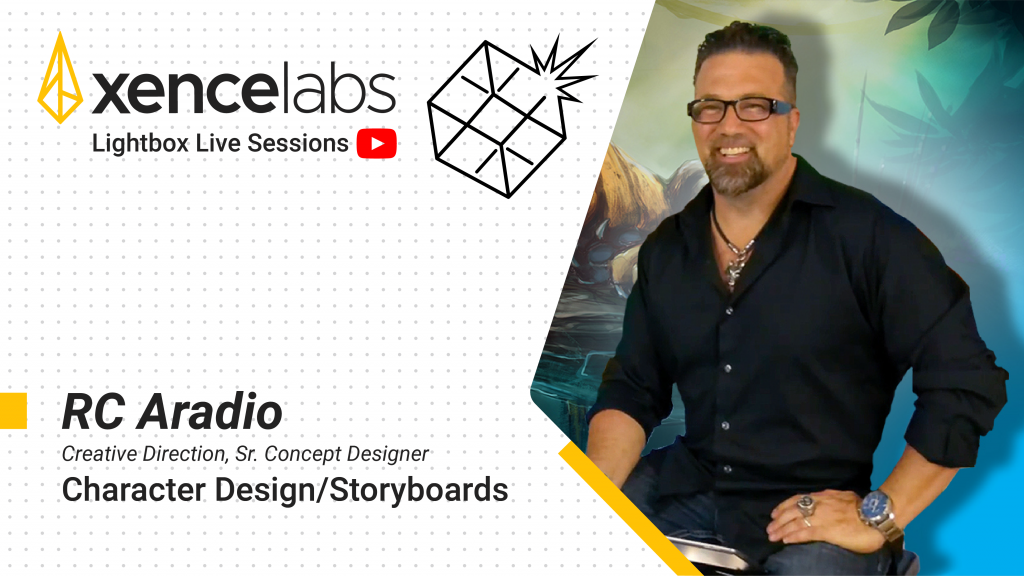 Character Design & Story Boards | RC Aradio: Lightbox Expo 2021 – YouTube
Questions and Answers
Q: What's your favorite part of your creative process?
A: I'd have to say the conception of sketches is my favorite part. The first stage is the concept stage even for a concept piece so that first drawing is just goofing around and doing some loose sketches – finding out what works and what doesn't.
Q: How does character design help you with storyboarding?
A: All of the assets you develop [for the character] can be used in the storyboard over and over. So, yes.

Q: Could you share about any current projects you're working on?
A: With my company, Blue Core Creative, I am producing a seven part novel based on some of the characters you're seeing here [in the Lightbox Live Session]. It's based on mythology. I'm also super excited about my Patreon classes because I'm going to be doing a very wide range from pencil skethes to full-blown oil painting. I also just finished cards for a board game called Ghost of Orr which takes place in 3800 B.C.

Q: I have a fear to create something unappealing or not good. How do I get over that as a beginner?
A: I've been doing this since I was just a kid. I always knew I wanted to be an artist. I went to art school in Manhattan in the 90s and it was frustrating because i was pretty much the last in my class. I had to work really hard. Practice makes perfect. Repetition is one of your greatest teachers. Art is math with style. You're constantly dividing in half and in half and in half of proportions but everyone has their own unique style. You don't have to be an illustrator. Look at Picasso. Look at abstract styles. You'll know when it resonates with you, but you have to put your feet in the water and test a bunch of different things. You may really love a certain style of art and then realize that's not what you do. It's really important for you to choose the style that you feel most comfortable with.
Q: Which art piece is a learning process or a stepping stone?
A: Every artists has that inner critic – it's never finished, never good enough – but, in the industry, you got to do the best you can and get it in your deadline. Yes, you get better with each stepping stone and build an arsenal of tools to help you get faster. Whether it's traditional or digital, you keep learning every day. You learn from other artists.
Q: How do you know when to cut it off [stop refining an image]?
A: Three reasons. 1. You could have to cut it off when you're hungry. 2. When you're tired. 3. When the piece is due. Artists have a tendency to overwork; but, as you start to mature, you realize that 9 times out of 10 less is more. Some of your early sketches are probably your best. When you start to self-doubt or noodle too much, you can make mud very quick. So learn when to stop.
Q: Do you still only use Photoshop or coloring? What other features have you tried?
A: Much like a Viking warrior, I use all resources available to me. I use Procreate, Sketchbook Pro, and Photoshop.
Q: Where do you find your references?
A: It's collecting over the years and really paying attention. Slow down and look at the frames [of movies or TV shows]. Start to learn the composition – a person here, cameras here, then a person there. I take freeze frames of images in movies because the sets are already made because it teaches you.
Q: What are the three different levels of your storyboards?
A: There's one that I call "scratch boards" and those are glorified stick figures that tells the story. The second is what I call a "gray board". The third board called "key art" in the attraction design industry because now they have color and tone.
Q: What is the mood board?
A: I go into it in my next session, but it's color is mood. Red is angry. Green is spooky. Yellow is happy. Colors have a psychological feeling and is used in movies. First you start with value and move that value into color. The color is a script. A color script lets the director know how to light the set.
Q: How do you move a new project forward?
A: First of all, it's trial and error. There's two ways of telling stories. You could do a linear story where the character starts here and then gets into a car, blows a stop sign, truck swerves, crashes, and then he's all bandaged up and goes home. That was the adventure. You have your beginning, middle, and end.
Q: Do you ever take your own photos for reference?
A: Your phone is amazing. That's all you need. If you can't do reference on the internet, you could use your phone and take sequential shots and break them down, look at them, and analyze them.